Class Impact: Bush to Michigan
Michigan's greatest need in the 2016 class is filled. The Wolverines picked up Pembroke Pines (Fla.) Flanagan four-star inside linebacker Devin Bush in a ceremony at his high school today. The 5-11, 224-pounder is the No. 5 inside linebacker and No. 184 overall prospect nationally.
He is the 22nd commitment in a group that is expected to reach about 28 total signees.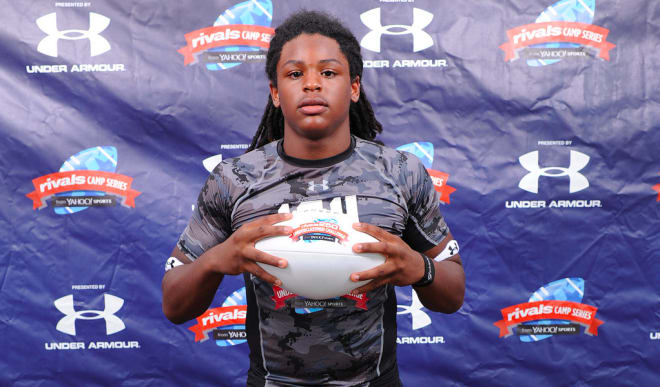 The Class
At long last, Michigan has the tough-nosed, game-ready inside linebacker that was such a huge priority for the coaching staff in this recruiting cycle. That doesn't mean they're done at the position group, though.
He joins Prattville (Ala.) three-star Dytarious Johnson in the 2016 linebacking corps, along with a few athlete prospects (Indiana three-star Kiante Enis, and his own high school teammate, three-star Devin Gil) who could play at that spot, along with a number of other positions.
Michigan would like to add additional top-flight linebackers, however, with Orlando three-star Jonathan Jones and Houston four-star Dontavious Jackson among those still on board. The Wolverines haven't kept up vigorous pursuit of five-star Californian Caleb Kelly, but could jump right into the mix when a permanent defensive coordinator is hired.
The class now has 22 commitments, and while it is expected to reach about 28 come National Signing Day, that doesn't mean there are six spots left. There could be more attrition from the current list before all is said and done. Remaining needs include defensive tackle, running back, offensive line, linebacker, and defensive back.
The Player
Bush doesn't have the long, tall frame that many come to expect from elite linebackers, but that hasn't prevented him from reaching that distinction all the same.He's firmly entrenched in the Rivals250, and for good reason.
Despite his height, Bush is athletic enough to cover in space and make plays on the ball in coverage. He's a natural read-and-react linebacker in the box, and has the toughness to make every play you'd expect of a true middle linebacker. Because he isn't tall, he's unlikely to ever be a 250-plus pound linebacker, but thanks to his attitude at the point of attack, he'll pack a wallop anyway.
Bush isn't used much as a blitzer for his high school team, but his athletic ability and feel for picking through traffic should allow him to succeed in that capacity, as well.
The Team
The primary reason Bush was so important to this class was because of how significant the need was for a linebacker who could come in and contribute immediately. He intends to enroll early in Ann Arbor, which should give him a chance to compete for a role in the starting lineup (only junior Ben Gedeon returns among significant contributors in the LB Corps).
While there's no guarantee he wins a starting job, it's reasonable to expect that Bush is a major contributor as a true freshman. One Gedeon graduates, he may even be one of the elder statesmen in the unit (depending on the health and experience of such returning players as Noah Furbush and Mike McCray, both of whom have missed time with injury). That could give him a leadership role as early as his true sophomore season.
Long-term, Bush doesn't have the ideal measureables that the NFL looks for in his position, particularly the height, so even though he's likely to end up making his way to The League, it should come after spending four years at Michigan - with conference and national honors possibilities as an upperclassman.