Kai-Leon Herbert: '1000% Committed' To Michigan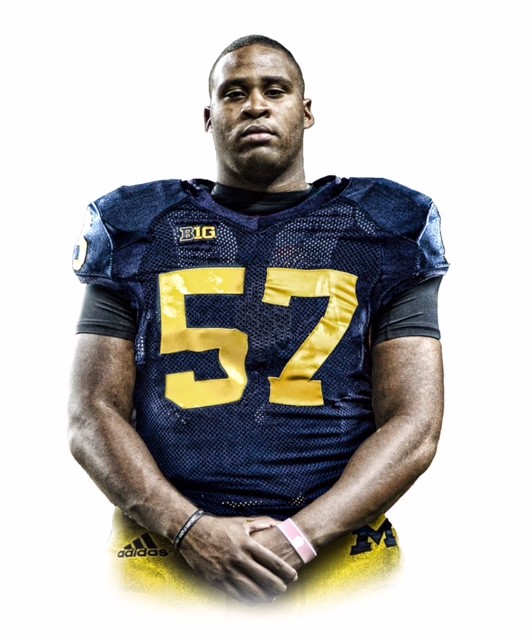 After being considered a long time Florida lock, a visit to Ann Arbor locked in Michigan's newest commit. Plantation (Fla.) American Heritage offensive tackle Kai-Leon Herbert announced via Twitter Wednesday morning that he has committed to the Wolverines. The Florida standout breakdown why he left the heart of the South for the Mitten State.
"I chose Michigan because they showed me the life after football. They talk to me like I'm just a person, not a recruit, and they didn't pressure me at all in my decision," Herbert said. "They need help on the offensive line with the seniors leaving and I feel I can come in and help out."
For Herbert, U-M was not even in the picture early on. When he received the offer last season, he kind of brushed it off. When offensive coordinator Tim Drevno came on staff, things heated up and the Wolverines recruited him harder than any other team. He said before his visit that Michigan was doing the best job recruiting him, it looks like their efforts paid off.
"Michigan felt like home from the moment I stepped on campus, to the moment I stepped off. I have began to develop a relationship with Michigan for quite some months and it's been great," he said. "Coach Drevno, Jim Harbaugh, Jedd Fisch, and Devin Bush, Sr. just talked to me and explained the possibilities and doors that can open up whether football works out or not. Plus, I have family up there and an old teammate in Nick Eubanks.
"Before I went up to Michigan, the coaches and I started to develop a great relationship. I was talking with a coach every two days and this was going on for months, then when I went up there for the camp it was freaking unbelievable."
In a recruiting world full of taking other visits, some creating top lists while committed, it seems that Herbert isn't about that all. He made it clear his commitment is just that, a commitment.
"I am 1000% with my commitment. I'm not sure about other visits I haven't planned any," he said. "I don't intend to take any other visits."
Herbert said he is recruiting four-star Plantation (Fla.) American Heritage teammate Tedarrell Slaton and doing a lot of recruiting at the NIKE Opening Finals camp this week.
Herbert saw a huge rise as he entered the Rivals100 in the last rankings update. He is the No. 61 overall player nationally and No. 10 at his position. This commitment gives the Wolverines the No. 3 overall recruiting class in 2017.