Maize 'N View: Two Sides To Every Story
On Thursday, following the decommitment of four-star offensive tackle Erik Swenson, Chicago Tribune columnist Teddy Greenstein called Jim Harbaugh "greedy. He's Nixonian. He is the Bill Belichick of the college game."
Is he right? Or is this a case of passing judgment without knowing the whole truth?
If you believe the Swenson camp then Harbaugh is all those things. He's not the goofy, fun-loving guy that makes headlines by volunteering to sleep over a recruit's house or is willing to play DJ Khaled to impress another recruit. He's a liar. He's unethical, and he's willing to destroy a young man's future simply to bring in a better player.
That's the narrative anyway that so many media outlets have been willing to run with this week, which is surprising because in Journalism 101 you're immediately taught there is another side to the story and that your story cannot (or should not) run until you've told both sides.
We tried to do that on Thursday, presenting both arguments (admittedly behind a pay wall to help drive subscriptions) based on conversations we've had with folks on both sides of this.
Now, Michigan cannot comment publicly on recruits until National Signing Day and even then, Harbaugh almost certainly will not talk about the Downers Grove South product specifically (he couldn't even if he wanted to until Swenson signs a LOI with someone).
However, at that time Harbaugh could address his recruiting strategy, the notion that he recruits "over a commitment" or that he continued to perpetuate a fallacy – that Swenson had an opportunity to attend U-M when Harbaugh knew deep down they always planned to pull his scholarship.
In fact, if a reporter attended that press conference and got his question(s) in and wasn't satisfied with the answers, at that point, he could write a column claiming "ethics are no obstacle to Michigan's Jim Harbaugh."
As a journalist, it concerns me writing a column when your source is a jilted 18-year old kid with raw emotions that may just be telling his version of the story.
I say that because two weeks ago, when we began dropping major hints in our Inside The Fort columns, we were told that Swenson was no longer a Michigan commitment. We have also been told by multiple sources (though admittedly one of those sources on the Michigan side) that the Swensons were told back in November that he should be looking around because he may not have a committable offer.
We were also told by a source out of Downers Grove that the Michigan coaches asked Swenson to camp at U-M over the summer so the staff could properly evaluate him (he refused) and we were told that it was understood that Swenson's senior year would serve as an evaluation period because this coaching staff had never seen him in-person and wanted to know if he was a good fit for the program.
Greenstein notes that coaches like Harbaugh, with a win-at-all-cost mentality, "want to be able to drop committed players they sour on."
That's actually true, but it's more nuanced than that. When we spoke to our in-house expert, former Michigan All-Big Ten offensive lineman Doug Skene, he told us a story of a player that was supposed to join the 1988 freshman class but that dogged it his senior year of high school. What did Bo Schembechler do? He didn't sign the young man.
In other words, this has been going on for decades. The difference now is the prevalence of social media. Some of that is good – it gives each recruit more power – but some of it is bad when reputable newspapers pick up the story and run with it without presenting the other side.
As we always do with Michigan recruits, we talk to opposing coaches for a feature and when we spoke to Swenson's opponents we were told off the record that the coaches were surprised by how less aggressive the 6-5, 300-pounder was and how their defensive linemen no longer feared playing him.
We've been told the same from our sources in Downers Grove, who said it was a major frustration for the coaches this year that the kid played not to get hurt instead of playing to show that he was dominant and the best player in the state.
So if you're Harbaugh and Co., and the young man has rejected your desire for him to come camp and then you watch him this fall and he's not performing the way you want in a offensive lineman you're trying to build a program around, do you honor a scholarship that you didn't offer in the first place?
Some critics will say absolutely. And some will say that Harbaugh extended a written offer to Swenson in September (which the young man tweeted out as proof) so you have to honor that. There's certainly a case to be made that if the coaching staff was uncertain about Swenson they never should have issued that offer.
It's also an argument that they were still evaluating Swenson when the offer was extended and they reserve the right to decide if it's a "committable" offer or not.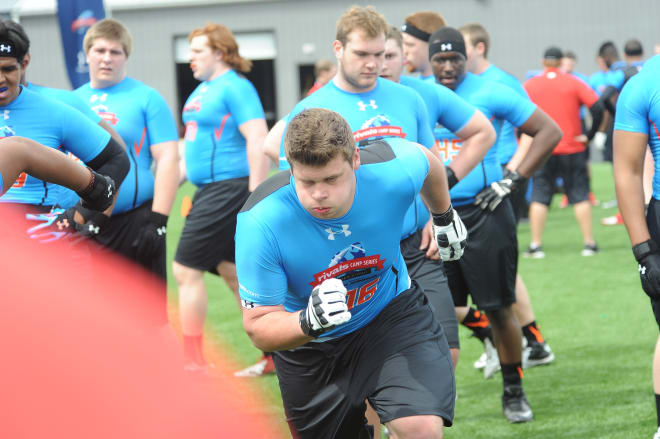 Someone could call that hypocrisy but then have they not been paying attention to college football for the past decade? Most schools extend 150 offers in a single year, knowing they can accept only 20-25.
Northwestern, which Greenstein uses in his story to show how a program does it the right way, has offered 115 recruits in 2016. Is Pat Fitzgerald not also playing the game? What happens if 30 of them wanted to commit but Northwestern doesn't have a spot for him? Doesn't Fitzgerald essentially pull that kid's scholarship offer?
In fact, he has to or he will be forced to oversign.
On Thursday, Kiante Enis also decommitted from Michigan because he no longer held a committable offer. And Enis was a Harbaugh-offered recruit.
So why didn't they react with the same venom? According to our source, they were also given the heads up weeks ago that this was coming, and were encouraged to take other visits and look at other schools.
I don't disagree that this whole thing is ugly, and I can completely understand the Swensons or Richardsons or Enis feeling like they got a raw deal, their dream school coming through with an offer only to take it away.
No one can say they know the inner workings of the Michigan staff and how they handle the conversations that take place with each commit.
One would hope they tell recruits that the evaluation process is ongoing and that both sides have to keep up their end of the bargain. That if the young man does everything the coaches ask of him, and continues to push himself to develop on the field, in the classroom and in the community the way that a school and program like Michigan expects, that their commitment will be honored.
But here's the thing. No one objects when a school drops a recruit because he's not a good citizen in his community or if he fails to perform in the classroom, so why is it thus completely unacceptable to drop a prospect if he doesn't meet expectations on the football field too?
I don't know. I don't pretend I have all the answers.
The only thing I do know is there are two sides to every story.