Michigan Hockey Coaches Hopeful JT Compher Will Be Back
The Michigan hockey team has seen four players leave early, taking with them the 81 goals they scored this past year, but the Wolverines are holding out a little bit of hope that their captain, junior center JT Compher, will return for his senior year.
Compher has told the Michigan coaching staff he will make a decision after participating in the World Championships May 6-22 in Russia; Compher was selected to Team USA along with his CCM linemates Tyler Motte and Kyle Connor.
The latter two announced decisions to forego their senior and sophomore campaigns April 6 and April 11, respectively, while junior and sophomore defensemen Michael Downing and Zach Werenski left March 29.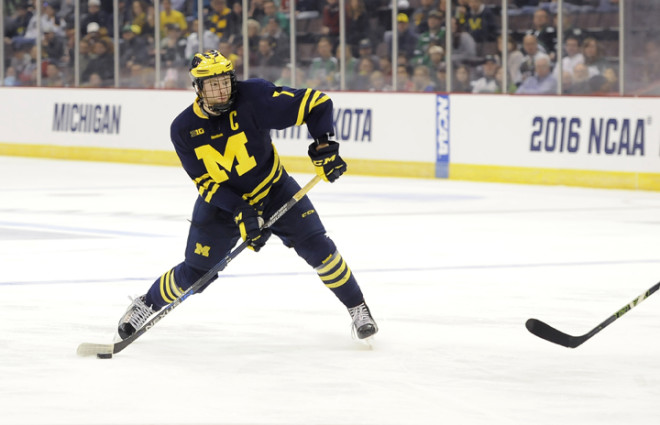 The very fact that Compher was not swept up in the process is reason to be optimistic he will shun the trend and instead return.
"I had a good meeting with him on Friday and [assistant coach] Brian Wiseman met with him today," head coach Red Berenson told TheWolverine.com on Tuesday.
"The kid is a good kid whether he stays or whether he leaves. He's invested in the Business School here.
"I can give him all the right reasons to stay. I can't give him a good reason to leave. Everyone else is telling him, 'Why wouldn't you go?' How about his school, his classmates, teammates, his team, being a two-time captain, his legacy, a championship … maybe all of it will stop JT from leaving.
"Plus he'd be going to an organization that is in somewhat disarray [the Colorado Avalanche], and they would love to sign him but maybe he'd like to play for someone else."
Compher was a second-round pick of the Buffalo Sabres in 2013 and saw his rights traded to the Avalanche last summer.
In three seasons at U-M, the 5-11, 193-pounder has contributed 39 goals and 79 assists, including 47 helpers this year that ranked as the ninth-best tally in program history and the best since Brendan Morrison had 57 assists in 1996-97.
If Compher returns, Berenson could envision the Maize and Blue competing for a championship next year similar.
"If he decides to return for his senior year it would be huge," Berenson said. "He's talented and has proven he can anchor a top line. He plays the game the right way. He's a leader. He wore the 'C' this past year and would be our captain next year so he would lend an immediate leadership presence to our team that we're going to need with a lot of young guys.
"We won't have a lot of proven forwards but we'd have JT and [rising senior] Alex Kile, and if you remember in 2008, we had two great seniors and 10 freshmen and we went to the Frozen Four."
Berenson knows that the sales pitch that NHL teams make is hard to resist, and that many a Wolverine has taken the bait, but he has a pretty good model to hold up for Compher, and is hopeful the rising senior will see the value in returning.
"What's wrong with the Jimmy Vesey story? He said no to the NHL after his junior year, comes back and leaves a legacy on his program, wins the Hobey, helps his team [Harvard] compete for a championship, and if you do that, you won't have any problem finding 29 teams that want to sign you next summer," Berenson said.
"Kids are afraid if they don't have the same number of points as seniors that they won't be wanted – that's what NHL teams try to convince them of – but look at Jimmy Vesey, he had 20 points fewer this year than last year but because of everything he did this year, his stock went up.
"So hopefully JT follows in his footsteps."